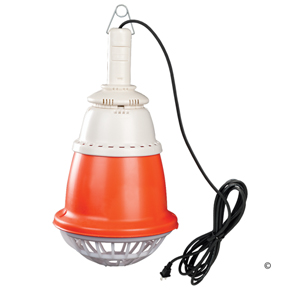 A while ago, I had gotten a heat lamb. I stuck it away after using it a couple of times. Recently I pulled it out to use it again. I hung it up for my baby chicks and went merrily on my way. About a week later, I noticed it looked odd and then realized it was broken. The cap fasteners had busted. I dropped a line to Premier 1 and asked to buy a new cap and told them what had happened. I had no idea how and when the cap had busted,
What happened next amazed me. They sent me a brand new whole heat lamp at no charge. Nada, nothing, not one thin dime. "Toss the busted lamp away and use this new one" said Stan (owner)
Check out the new lamp. Such wonderful service and they are a five star company. I was so happy to receive a new heat lamp and speedy service. It arrived in record time. It is a USA company owned by folks like and me. Support them and buy their products. I have been buying from them for about thirteen years. They get 5 stars for their service!
I high recommend this company. I just put in another order, and one of the items was another heat lamp. If you order over $100, the shipping is free.
Here is their website: